Massage Shower House Shoes
The design has sides leak holes and footbed grooves spread out through the whole sandal in order to allow better drainage which helps them dry much quicker than other slippers.
Are you looking for a good pair of shower shoes?
Not only you need a pair of shower shoes to better protect you from the slip at the home shower, but If you use the showers at the gym or a communal shower room in a college dorm that gets used by lots of different people---then you not only surely want a pair of shower shoes to prevent you from slipping and sliding, but also can protect your feet.
BIKINIV house shower shoes not only have perfect shower functions but massage functional come together to improve health wellness.
Designed of Achieving the Function of Massage and Shower
1. Easy to clean: Durable and Stain-resistant: They can be easily wiped clean with a clean damp cloth.
2. More Flexibility: EVA tends to be softer than rubber, which means it means we have more flexibility, The soft sole does not hurt the wooden floor, very quiet when walking.
3. Elasticity and Durability: Feel free to fold the slippers and it won't change shape. a space saver for carry-on to travel, gym shower.
4. Deep non-slip texture: EVA material itself has a remarkable grip and with the sole has an anti-slip deep pattern design that increases the friction between the sole and the ground, it is good in the showers to anti-slip.
5. Fresh high quality EVA material and One-piece technology: EVA is widely recognized as the best material for the soles of indoor shoes. Slide sandals are made in one-piece technology.
5. Lightweight and foldable for a space saver: This slipper's weight just is 3.77oz. It is easy to carry on, the right slippers for travel and working out, so you can use home, travel, or after work out to recovery feet.
6. Massaging and Relax your feet around the home: This slipper comes with massage nodules that stimulate the wearer's sole. The wearer's sole will be touched and stimulated by the slipper's acupressure granules each time he or she walks with the slippers. The nodules are designed to not be sharp that get gently put pressure on the soles of the foot. If your feet have a little bit sensitive, maybe this style of slipper is better for you guys to wear every day.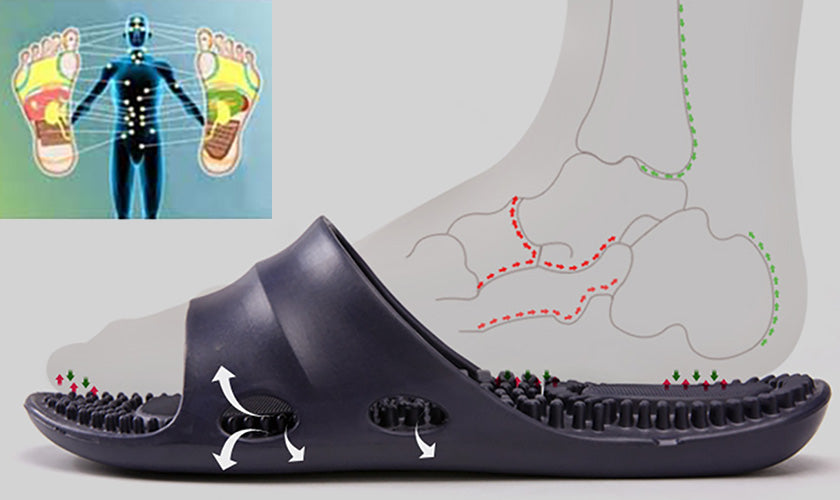 Keep your feet healthy
Based on the theory of bio-holographic the sole was viewed as the body's "second heart". About two-thirds of leg muscles work together to pump blood back towards the heart. Veins concentrate on the sole. Properly pressing & stimulating them promotes blood flow, supporting heart function.